The classic look of the Café Racer, made popular by rockers of the 1960s and 70s, is making a comeback today as a stylishly retro and reasonably priced transport option.
There has been an increased interest in vintage motorcycles in general, but the café racer offers an incredibly vintage style for the new generation of riders with a sense of nostalgia for the baby boomers.
It has the quick and easy city manoeuvrability and low running costs of a scooter, with the trendy image of a motorcycle.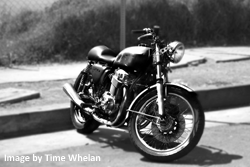 What is a Café Racer?
The Café Racers of the 60s were light weight, lightly powered motorcycles that in all honestly, were tweaked for speed rather than comfort. Most notable for their low slung handlebars, seat cowling and stretched out fuel tanks, they were made and modified to resemble the Grand Prix road racing bikes of the time.
Enthusiasts would modify iconic bikes like Triumphs, Nortons, Hondas, even Harley Davidsons and BMWs to reduce weight and size, lowering handlebars and replacing other parts to get that Café Racer look. Any bike that was light and simple in design could be modified to be a Café Racer.
The term Café Racer comes from the culture in England and Europe of riders who would visit cafés and other drinking establishments on their stylised motorcycles. Wallace Wyss, a journalist in the 70s wrote that the term 'Café Racer' was initially a derogative term for those he described as a "motorcyclist who played at being an Isle of Man road racer" but was in fact "someone who owned a racy machine but merely parked it near his table at the local outdoor cafe."
The Café Racer culture came to an end with the rise of the first Japanese superbike. The off the shelf design of the Honda CB750 made café racers seem slow and unreliable by comparison, and the fad slowly came to an end.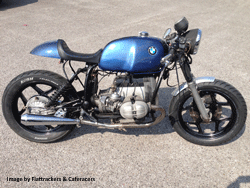 Café Racer Modifications
The main aim of modifying a Café Racer is to reduce the weight and streamline the design of the bike. While there are many different parts of the bike that can be changed, the most common and noticeable modifications are as follows;
Seats – usually made from fibreglass or aluminium frames, they are long, thin and flat, also housing wiring and the bike's battery. Very lightly padded and covered with either vinyl or leather, they're designed to be light weight rather than comfortable though more comfortable seats can be found.
Handlebars – referred to as the 'Clubman' design, they're much lower than factory standard bars, though some riders simply flip the bike's existing handlebars upside down so they sit lower.
Fuel Tank – your traditional Café Racer fuel tank is long, narrow, and has indents on the sides to allow riders to grip the tank with their knees. They can be metal or fibreglass but make sure it complies with your state's vehicle regulations.
Carburettors – a racer's carburettors will usually be rebuilt lighter than the factory standard models.
Other parts – other modifications include the exhaust, lighting, tyres, brakes and brake lines.
Buying an existing Café Racer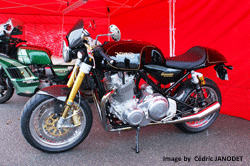 Because of all the modifications people make necessary, if you're buying a used bike that has been modified into a Café Racer you should ask for a logbook of all the modifications at the very least, or even an assessment from an Approved Engineer or the Department of Transport and Main Roads.
Luckily for those of us without a whole lot of mechanical experience, there are a number of motorcycle manufacturers now making brand new, factory standard Café Racers. For Queensland riders it's worth noting that many of these are 125cc and completely LAMS approved.
From the Chinese made CPI Sprint 125 and Skyteam Ace 125 to the more powerful Royal Enfield Continental GT and Norton Commando 961 Café Racer, there are plenty of options in Café Racers without the need to spend 60 to 80 hours modifying an existing bike.
If you're keen to get yourself a classic looking Café Racer talk to the team at Aussie Bike Loans. We can find great rates for your bike finance and even offer motorbike insurance too.
Contact us on 1300 889 669 or just apply online to get things moving today.