We already mentioned previously that there has been an exciting return of the Café Racer in recent years. The classic rocker bike of the 1960s and 70s has made a comeback with its low handlebars, narrow fuel tank, thin seat, light frame and very simple, classic look.
Originally these bikes were made by modifying existing bikes; removing excess parts, replacing others with lightweight materials and even rebuilding the carburettors.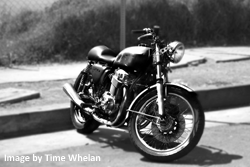 This is great for the Garage DIY enthusiast, but unless you have a good understanding of mechanics it can place café racers just out of your reach, both for building or buying a modified racer.
While a classic, modified café racer can look great, modifications make it difficult to insure a bike and can result in further problems if not done right. Especially if you purchased the bike post-modifications and don't know exactly what was done to it.
Production Café Racers In Australia
Luckily there are now a number of factories made café racers on the market.
From Skyteam to Royal Enfield, Guzzi and even BMW, there are a number of motorcycle manufacturers with new café racer styled bikes available in Australian. We thought we'd cover some of the best ones out there today.
Skyteam ACE 125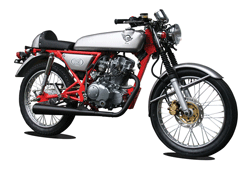 The Skyteam Ace 125 is a Chinese made bike with a retro café racer design. It has a four-stroke engine, five-speed gearbox and goes for less than $3,000 brand new.
With a light frame and 125cc engine capacity, the ACE 125 has great fuel economy and is perfect for learner riders.
Royal Enfield Continental GT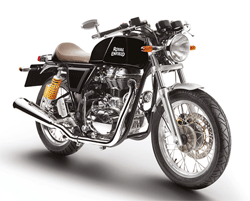 For a classic UK motorcycle that pays homage to the café racer style and wants for speed, the Continental GT is Royal Enfield's lightest, fastest, most powerful bike in production.
With a 535cc engine, the Continental GT comfortably blends speed, reliability and comfortable handling.
Guzzi V7 Racer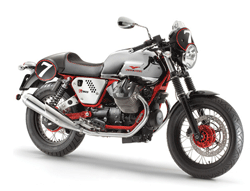 Perhaps one of the most convincing out-of-the-box café racers around is the V7 Racer by Guzzi. It features all the racer features, including upswept pipes, laced wheels, red frame, and even a race number on the rear.
With its shiny chrome finish, it might be a little showy, but the 750cc V-Twin engine is made for showing off too. At the upper end of the market, these bikes go for around $16,000 so you might want to talk to us about a bike loan if you have the V7 in your sights.
Triumph Thruxton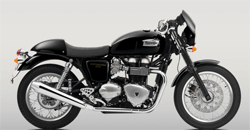 Still making classic motorbikes, the Thruxton combines the café racer look and culture with modern performance and reliability. Based on the original 1960s Bonnie-based racer, it features a modern Triumph twin for smooth riding and 865cc for power.
There's also the option of the Thruxton Ace Special Edition, co-branded with Ace Café and finished with a pure white and jet black paint job in tribute to the legacy of the Brighton Burn-up.
If you love the classic café racer look like we do, and have found a great factory made a racer, talk to the team at Aussie Bike Loans today. We can help with bike finance and insurance to get you on the road from café to café.
***Featured Image: