2018 was not a great year for the Australian motorcycle industry when looking at sales figures. The total sales for the whole calendar year fell by 8.6 per cent and almost all brands were reduced to negative numbers according to their 2017-2018 sales comparison report. That is, except Indian Motorcycles. This American brand made an 8.7 per cent leap in sales in 2018 with 836 units sold compared to their 769 in 2017.
Now, you may think that it's nothing compared to hot shots like Honda, Yamaha, and Kawasaki — the three biggest players in the Australian market. Although Indian Motorcycles are not quite in the same club yet, the brand has been making a significant surge in sales since 2014 and gaining more popularity among bike enthusiasts each year. The company is steadily spreading its wings all over Australia and there are no signs of it slowing down.
It might surprise you to know that Indian Motorcycles have been around for over 100 years, and over this long timeline the company has made many notable achievements. We've included a brief rundown of their history below, as well as an overview of the current motorcycles and for those who are keen to get their hands on one of these babies for a test drive (or purchase), a list of dealers in Australia.
Company History
1897 – 1998
Indian Motorcycles started as Hendee Manufacturing Company, which was founded by George M. Hendee in 1897. The company produced bicycles that carried brand names like Silver King, Silver Queen, and American Indian. The latter was shortened to just "Indian" and became the main brand name of Hendee.
In 1901, the company built the first American gasoline engine-powered bike with the help of Oscar Hedstrom. It's a 1.7 bhp single-cylinder engine Indian Motorcycle that was sold the following year and became a smashing success. In 1904, Indian Motorcycles introduced the deep red colour on its products, which became the brand's trademark.
That decade, Indian made several notable achievements like the new world speed record of 56 mph in 1903, the first V-Twin factory race bike in 1906, and a 1000-mile reliability trial victory in England.
In the 1910s, Indian Motorcycles introduced the 2-speed transmission on its products, as well as the first electric start, electric lights, and the first 1000cc Powerplus engine. The following decade, some iconic Indian bikes were released including the Indian Scout and the best-selling Big Chief. In 1923, the company officially changed its name from Hendee Manufacturing Company to Indian Motorcycle Company.
By the 1930s, Indian Motorcycle gained new ownership in E. Paul Du Pont and new leadership in Loring F. Hosley. After a decade, the company was sold to Ralph B. Rogers. By 1953, however, Indian Motorcycle stopped its production. The rights to the Indian brand name trademark has been passed many times until it was sold to IMCOA Licensing America Inc. in December 1998.
For a full timeline visit the Indian Motorcycle website.
1999 – Present
From 1999 to 2003, the IMCOA Licensing America Inc along with 8 other companies merged and operated as the Indian Motorcycle Company of America. The new Indian company produced the first "Gilroy Indian" model, the Scout, and the Spirit models. However, went into bankruptcy by September 2003.
Finally, the Indian Motorcycle Company that it is today was formed on July 20, 2006. It was then largely owned by a London-based private firm, Stellican Limited. The new company resumed the Indian Motorcycle brand and established its headquarters in Kings Mountain North Carolina. From 2008 to 2011, the company produced a good number of 2009 Indian Chief bikes, a 1720cc motorcycle with Powerplus V-Twin powertrain engine and electronic fuel injection capability.
In April 2011, Polaris Industries bought the company from Stellican and with the new ownership, Indian Motorcycles has achieved much success up to date. 2013 saw the release of the all-new Indian Chief Classic, Vintage, and Chieftain®. These models were honoured by Motorcycle.com with the 2014 Cruiser of the Year award. 2013 was the year when the company unveiled the powerful Thunder Stroke®, too.
The company debuted the Indian Scout® FTR750 in 2016 to officially return to professional Flat Track Racing. During the same year, the company worked with Klock Werks Kustom Cycles and Jack Daniels® to produce the first limited edition Jack Daniels® Indian Springfield® and Chief® Vintage.
Right now, Indian Motorcycles has 14 models, seven of which with the Thunder 111 V-Twin engines. Aside from the Scout, Chief, Springfield, Thunder Stroke, and Chieftain; there's also the Roadmaster® and the new FTR1200®.
2018 – 19 Models
The 2018 and 2019 Indian Motorcycle models include the Scout Bobber, Springfield Dark Horse, Chieftain Limited, and Roadmaster Elite ranges.
2018 Indian Scout Bobber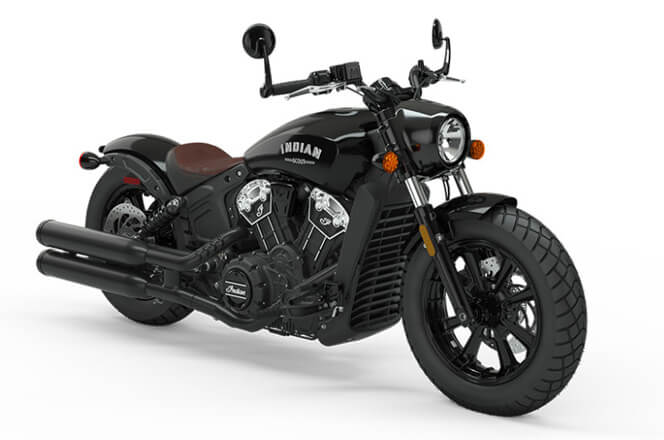 The 2018 Scout Bobber has some great updates, just like the standard rear pillion seat, footpegs, cartridge forks, and Pirelli tyres. The previous colour options of Thunder Black, Brilliant Blue, and Burgundy Metallic will remain and joined by new additions: Willow Green/Ivory Cream and Metallic Jade.
2018 Indian Scout Bobber price starts from $19,495.
2018 Indian Springfield Dark Horse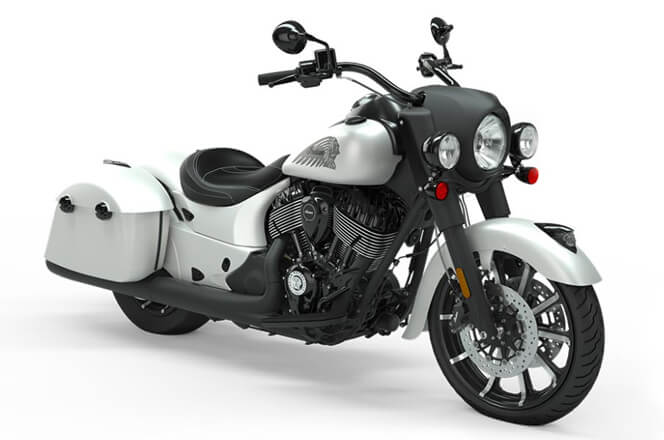 The new Springfield Dark Horse model features 19 inches ten-spoke blacked-out front wheels and quick-release windshield. Also, it has matte black paint and glosses black details, just like the other Dark Horse models.
The 2018 Indian Springfield Dark Horse starts at $34,995 and up.
2018 Chief Dark Horse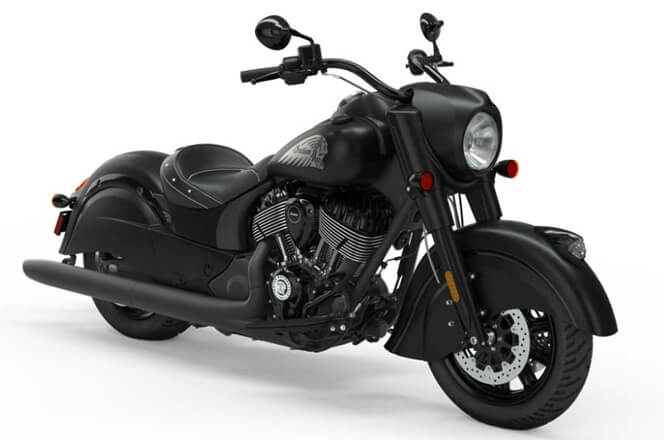 Powered by a 1811cc Thunder Stroke® 111 V-Twin Engine, the 2018 Chief Dark Horse will give you an exciting ride you won't find in any other motorcycles. For $28,995, you'll get to drive a motorcycle with an engine that produces 150Nm of torque that will keep your adrenaline rushing. There's also a standard keyless start to make your ride more convenient.
2018 Chief Vintage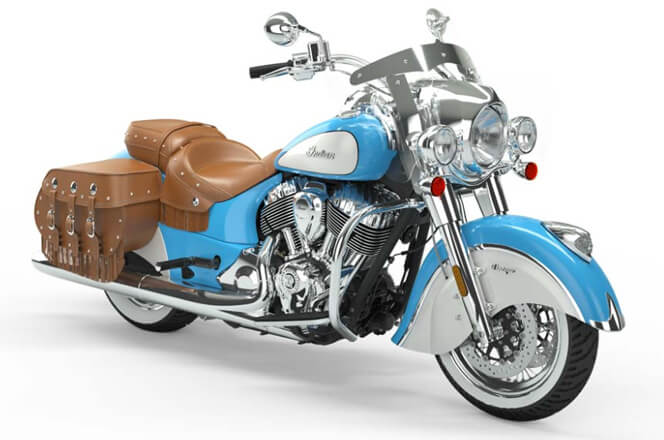 The new Indian Chief Vintage is a motorcycle with a classic design but packed with modern technology. It's equipped with Adaptive Braking System (ABS), Cruise Control, Keyless Start, digital tachometer, ambient air temperature, and heated grip level. Available in Thunder Black, Sky Blue over Pearl White, and Willow Green over Ivory Cream; you can drive this Indian motorcycle from $33,995 and up.
2018 Chieftain Limited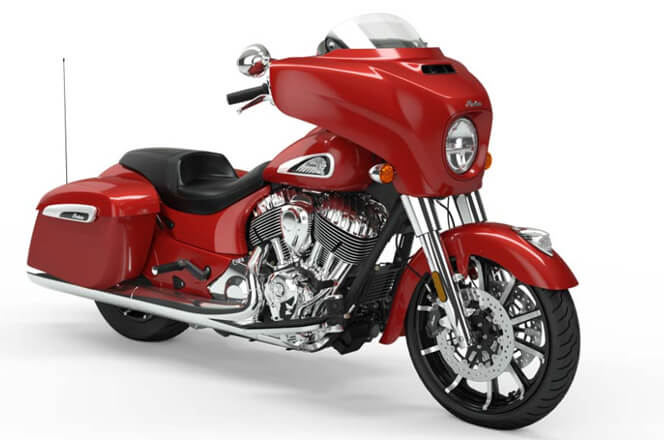 Fans of the Indian Chieftain Limited will be happy to know that the old black version is now joined by four other colourways. These include Brilliant Blue, White Smoke, Thunder Black Pearl with Graphics, and Bronze Smoke with Graphics. Aside from the new colours, the new Chieftain Limited features the Ride Command technology and 19-inch blacked-out wheel. Price tag? $36,995 and up.
2018 Chieftain Dark Horse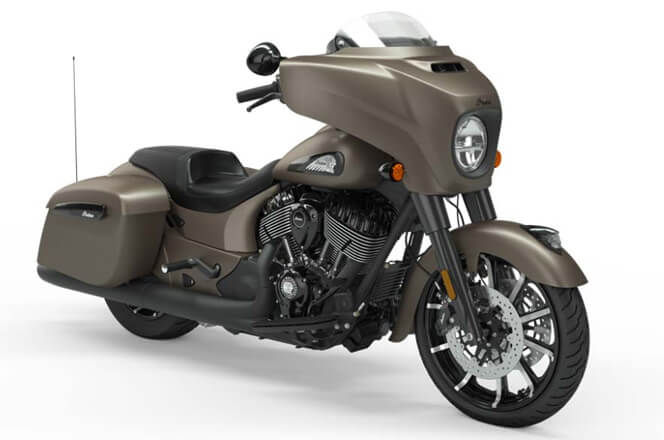 The 3rd one in the Dark Horse range, this new edition is described by Indian Motorcycles as loud, powerful, and equipped with modern ride technologies. It features the Ride Command® with the 7-inch touchscreen display with navigation and an easy-to-use interface. The new Chieftain Dark Horse also has 100-Watt Audio System, Bluetooth, Smartphone Input, and USB. You can get this awesome ride for $35,995.
2018 Roadmaster Elite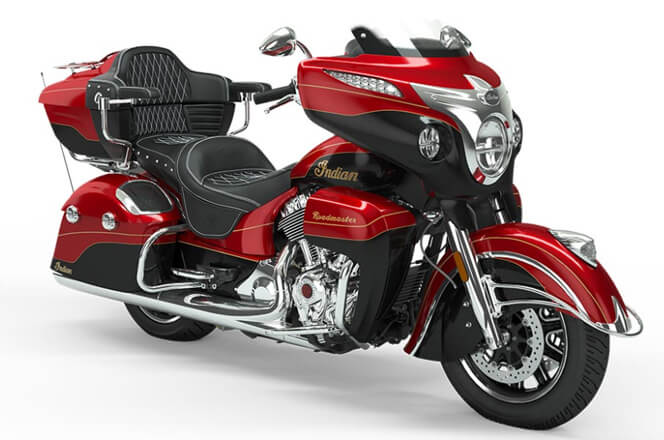 Though this Indian motorcycle is priced at a handsome $49,995, you can trust that it's well worth it. The new Roadmaster Elite has a real 23K gold leaf badging on its tank. Aside from the Ride Command® technology, it also has a powerful 600-Watt Sound System to keep you entertained on your road trip. It's your ultimate touring companion.
2018 Indian Roadmaster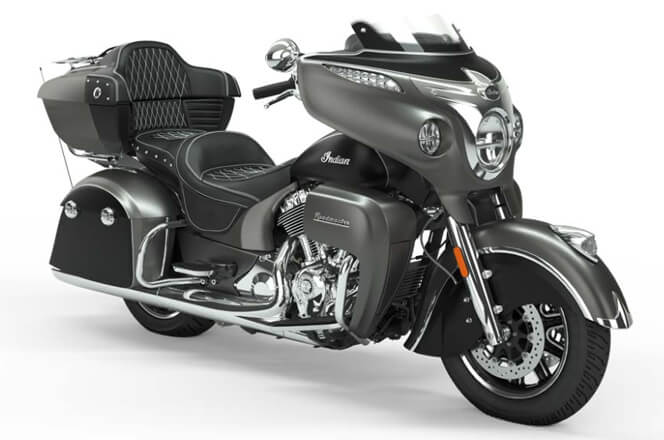 The new Roadmaster is your well-balanced companion on the road. From the most-advanced motoring technologies to the well-crafted appearance, you'll be satisfied with Roadmaster despite its $42,995 price tag. It's equipped with a powerful Thunderstroke Stroke 111 V-Twin engine, lightweight aluminium frame, and an ABS for your safety. With the premium leather seats and driver heated grips, the Roadmaster has everything you want in a fun and exhilarating motorcycle trip.
Images: Indian Motorcycles website
Indian Motorcycle Dealership Locations
Wherever you are in Australia, you will find an Indian Motorcycle Dealership near you. If you want to buy a brand-new Indian Motorcycle, here is a complete list of dealerships you can go:
Motorcycle Territory
1/53 Hickman Street
Winnellie, NT
08 8947 0042
Brisan Motorcycles
250 Maitland Road
Islington, NSW
02 4940 8777
Eagle Powersports
32 Bridge Street
Tamworth, NSW
02 6762 7458
Indian and Victory Motorcycles
554 Parramatta Road
Ashfield, NSW
02 9275 2000
Steel City Motorcycles
38 Princes Highway
Fairy Meadow, NSW
02 4284 0800
Canberra Motorcycle Centre
30 Ipswich Street
Fyshwick, ACT
02 6280 4491
Indian and Victory Motorcycles
544-554 Elizabeth Street
Melbourne, VIC
03 9342 3888
Antique Motorcycles
1-3 Grange Road
Cheltenham, VIC
04 1834 0055
Indian and Victory Motorcycles
632 Wickham Street
Fortitude Valley, QLD
07 3363 5400
Rising Sun Motorsports
35 Bowen Road
Townsville, QLD
07 4759 3200
Adelaide Motorcycle Centre
29-31 Magill Road
Stepney, SA
08 8130 0777
Indian and Victory Motorcycles
1429 Albany Highway
Cannington, WA
08 6254 0900
Indian Motorcycle Tasmania
76 Charles Street
Hobart, TAS
03 6272 1700
Get Your Own Indian Motorcycle with Aussie Bike Loans
Indian Motorcycles have a soul. We're talking bikes with just the right mix of vintage good looks and modern tech. If you're looking to visit a dealer soon or go via a private seller, Aussie Bike Loans can help secure you a great deal on Indian motorcycle finance. Better yet, you can get a pre-approved loan so you know exactly how much you can borrow before you start your research.
Fill out our online application form or call us on 1300 889 669.