When it comes to motorcycles, popular brands like Honda, Yamaha, and Kawasaki instantly enter your mind for sure. However, there is a brand that's more than a century old but arrived on Aussie shores only in 2008. If you don't know what we're talking about, we're happy to introduce you to Indian Motorcycles — an American import that is taking up a considerable part of the biking market.
Since its Australian debut more than a decade ago, the brand has consistently gained popularity and demand from consumers in the land down under.
Indian Motorcycle is distributed in Australia and New Zealand by Polaris, a market-leader in off-road vehicles like ATVs and 4X4s. This Aussie company currently plans to restructure the dealer operations of Indian Motorcycle in the country and move to an independent dealer network by the end of this year.
Meanwhile, the iconic American motorcycle company has a new line-up of machines built with outstanding performance and innovation that will inspire your imagination. If you're in the market for a great motorcycle this year, here's an Indian Motorcycle 2020 model list you can choose from.
Indian FTR 1200
Inspired by the racing bike FTR750, the Indian FTR 1200 model is built for the street. This motorcycle is available in two trims, both sporting a 1203 cc Liquid Cooled V-twin engine that pumps out 120hp of power and 85ft-lbs torque. Both trims also sport a high-output LED headlight for improved road visibility, a gas tank placed under the seat for improved handling, and a USB port for mobile charging.
While the basic Indian FTR 1200 is already an awesome ride, the FTR 1200 S can give you more tech for a few extra dollars. It boasts a 4.3" Ride Command® touchscreen LCD with Bluetooth® technology so you can easily pair your smartphone. And with this motorcycle's three different ride modes with unique throttle maps, you can customize your ride to fit all any type of driving conditions.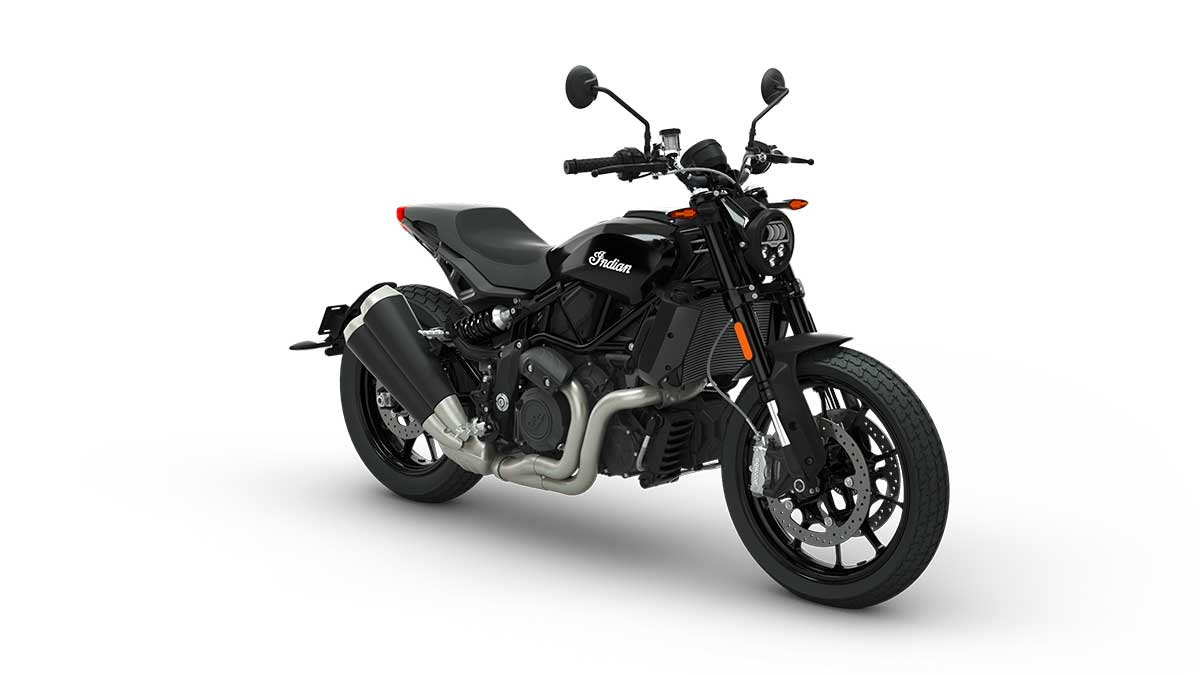 Indian Scout
Indian Scout motorcycles are to have the combination of power and exceptional handling. Inspired by the 1920 Scout, these motorcycle models sport the classic style but with modern design and the latest technologies. Equipped with a 1133cc Liquid-cooled V-Twin, these awesome motorbikes have a maximum torque of 71.5ft-lb.
The Indian Scout features agile handling with its low seat height and exceptional balanced ride due to the centre of gravity location. It's also packed with modern technologies that include an Anti-lock Brake System, USB port for device charging, Keyless ignition, Cruise control, and Rear Cylinder Deactivation.
The Indian Scout line-up is composed of the basic Scout, the Scout Bobber Twenty, and the limited-edition Scout 100th Anniversary.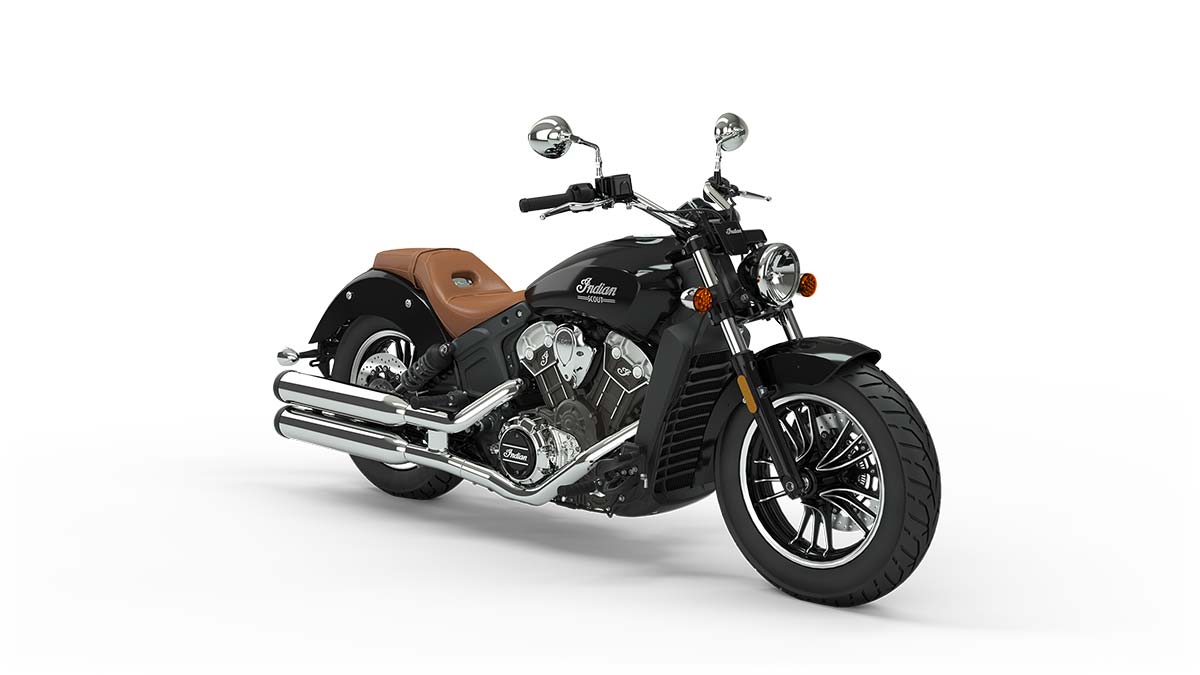 Indian Cruiser
Made up of the Chief Dark Horse and Chief Vintage, the Indian Cruiser motorcycles are timeless, stylish, and streamlined. Their authentic designs will give you a good view of America's past. Simple yet powerful, these motorcycles are your classic masterpiece combined with state-of-the-art engineering.
The Indian Cruiser Motorcycle general features include three ride modes, keyless ignition, Anti-lock Braking System (ABS), active cruise control, and rear cylinder deactivation. Both trims are fitted with a 1811cc Thunder Stroke™ 111 V-twin engine that delivers 119 ft-lbs torque. Cloaked with premium gloss finishes and marked with the smoke grey tank badge, these Cruiser motorcycles sport the classic Indian Motorcycles styling that creates an impressive look on the road.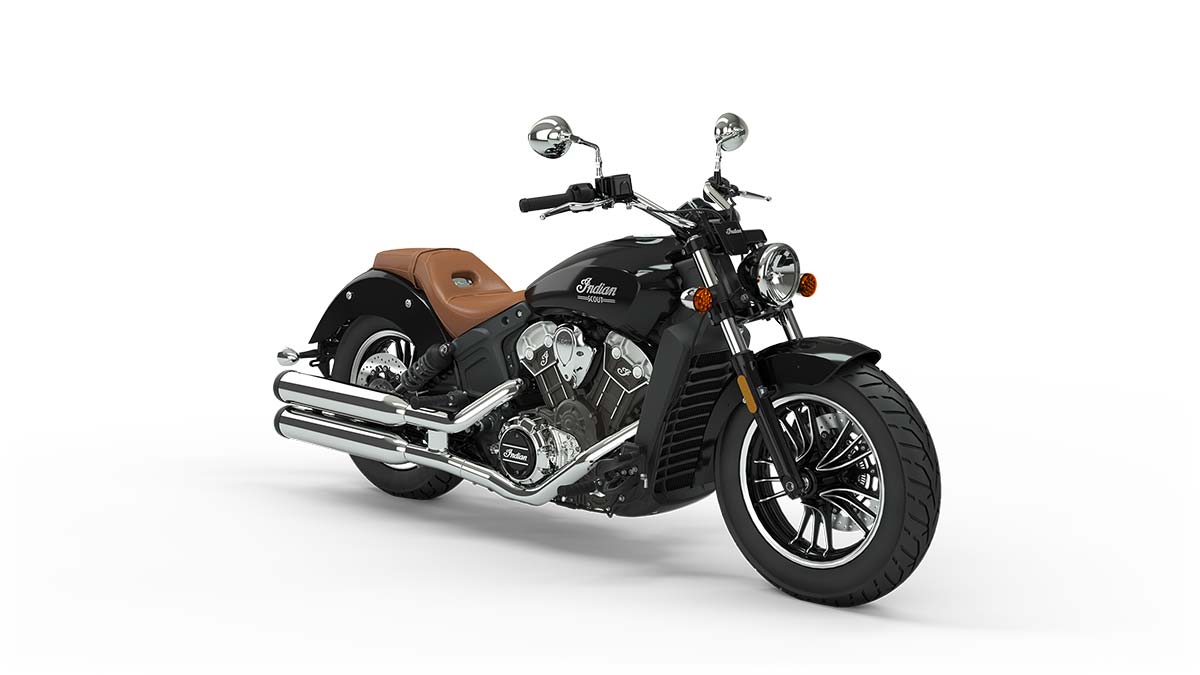 Indian Bagger
Every Indian Bagger motorcycle is a great choice wherever your journey takes you. This model has five different trims that include the Springfield, Springfield Dark Horse, Chieftain Limited, Chieftain Elite, and Chieftain Dark Horse. All trims are fitted with a 1890cc Thunder Stroke™ 116 that delivers 126 ft-lbs of torque, except for the Indian Bagger Springfield that sports a 1811cc Thunder Stroke™ 111 V-twin engine.
Whichever trim you choose, you can expect a versatile machine with effortless handling and packed with features that include LED lighting, Keyless ignition, Premium audio, Ride Command Infotainment and Smart Lean Technology. The Bagger motorcycles also feature dynamic traction, cornering, and drag torque controls that will give you total control on the bike wherever you go.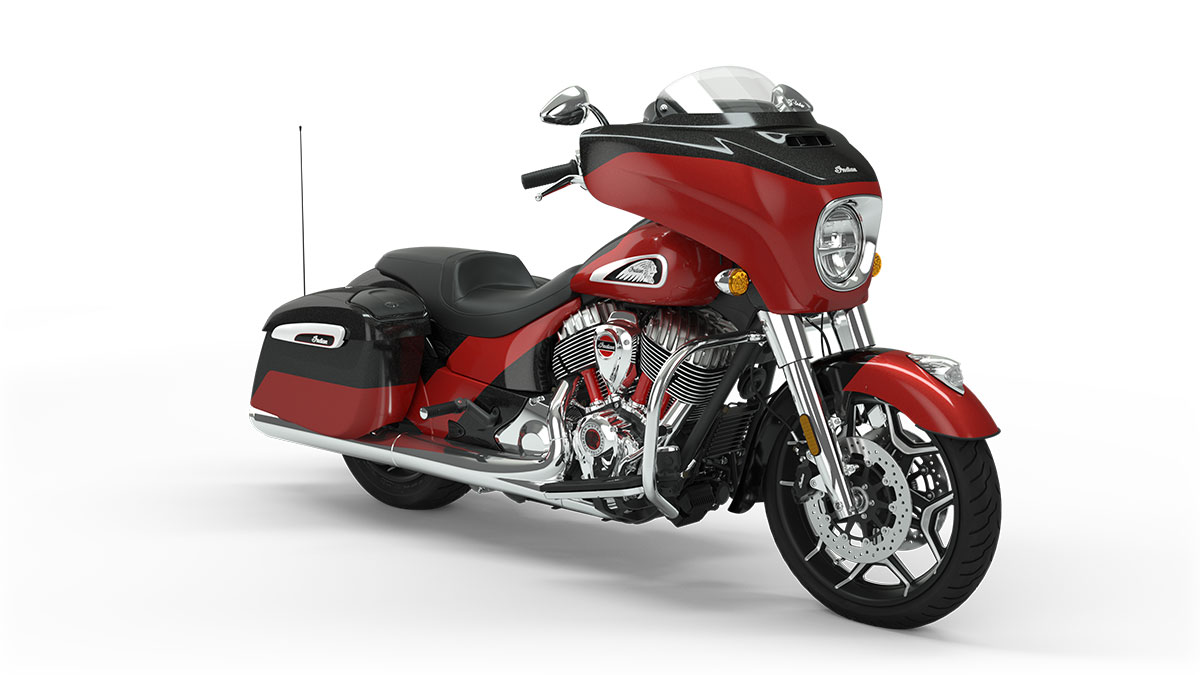 Indian Touring
The touring motorcycles are expertly crafted to meet the needs of long journeys. Packed with the best touring amenities that Indian Motorcycles has to offer, this model is a well-balanced touring ride you can trust wherever you are headed to.
The Indian Touring range includes the Roadmaster®, the Roadmaster® Dark Horse, and the Roadmaster® Elite. These motorcycles are fitted with a 1890cc Thunder Stroke® 116 V-Twin Engine that produces 124 ft-lbs of torque. These touring bikes are built with a lightweight cast aluminum frame and excellent steering geometry that'll give responsive handling, a great feature whether you're a beginner or a seasoned rider.
All touring motorcycles will also assure you of superior riding comfort. They have a large 140-litre weatherproof storage that can easily fit your cargo, genuine leather seats with heat controls, and optimized airflow vents to give the rider and passenger more cooling airflow. Equipped with the Ride Command® technology that features expert navigation and Bluetooth® connectivity, plus a premium audio system; the Indian Touring motorcycles are your complete companions on a road trip.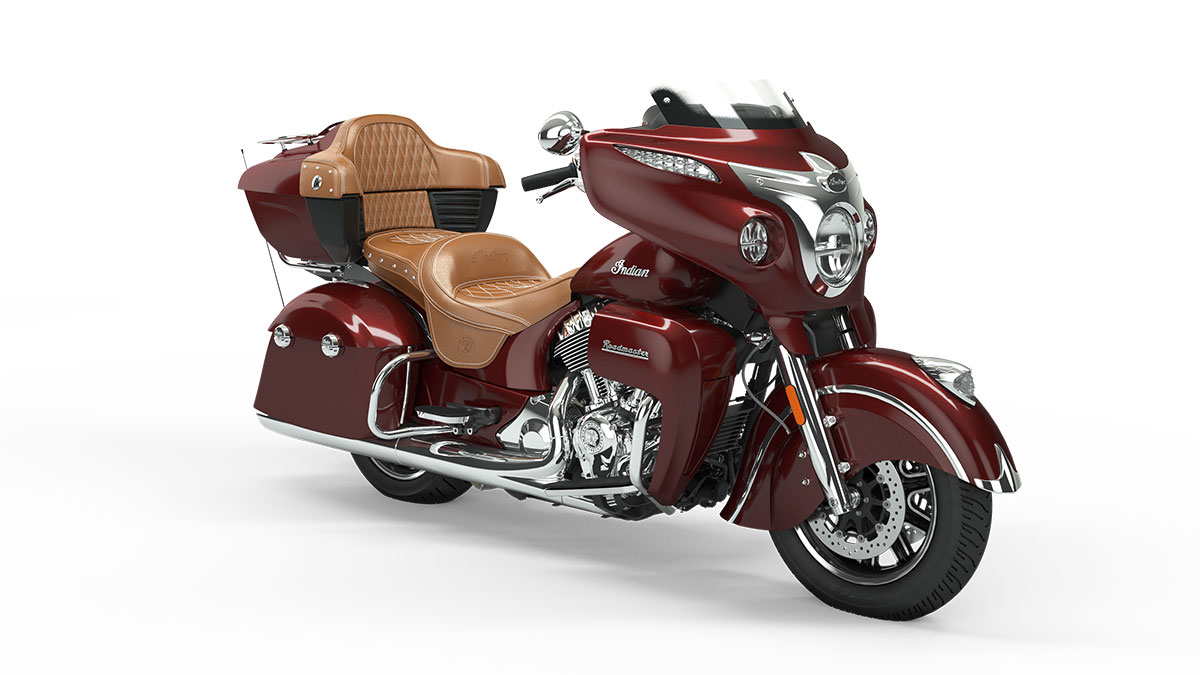 Indian Challenger
The Indian Challenger model is a wicked bagger motorcycle with unbridled power, comfort, and style that ensures further and longer riding adventure. Equipped with the all-new Indian Motorcycle PowerPlus liquid-cooled engine, this motorcycle model is capable of best-in-class 122 hp/128ft-lbs output. Paired with a six-speed transmission, it's your powerful ride for everyday travel.
Two trims make up the Challenger lineup, which includes the all-black Challenger Dark Horse and the premium-chrome finished Challenger Limited. Both trims feature state-of-the-art electronic equipment like the 100W speakers with dynamic equalizers that give a crystal- clear audio output and the Smart Lean Technology with a quad-core processor that runs the Ride Command System™ for traffic and weather information.
The Indian Challenger motorcycles also have Dynamic traction control, cornering control and drag torque control using 6-axis Bosch IMU sensors to keep you in-command while on the road. They have supreme traction courtesy of the Metzeler Cruistec performance tires and superior stopping power guaranteed by Brembo brakes.
Aussie Motorcycle Finance
There you have it, the complete Indian Motorcycles 2020 model list. Whichever motorbike you fancy, make sure that it fits your purpose for buying one, not to mention your budget and riding capability.
We are currently not taking any new applications as result of COVID-19.
We will be keeping a close watch on the situation and will be re-assessing soon.
We are big fans of the Indian Motorcycle range and can.t wait to welcome Indian Motorcycle finance applications. We can get you a fixed rate motorcycle loan so that you can be out on the road sooner.
In the meantime, if you have any questions please call us today at 1300 889 669 or send us an email on group-enquiries@firstmac.com.au
Images: Indian Motorcycles website