Italian motorcycle powerhouse Moto Guzzi has just released three special edition Moto Guzzi V7s. And yes, some of the Moto Guzzi V7 III Limited Range bikes come in limited numbers. As is tradition, the cleverly named motorcycles, Carbon, Milano, and Rough, are produced directly out of their Mandello Del Lario factory in Italy as they have been doing for a hundred years now.
These limited range V7 IIIs are powered by the Moto Guzzi's signature transverse air-cooled 90 degrees V-Twin engine that has an output of 52 horsepower and 60 Nm of torque.
Moto Guzzi V7 III Carbon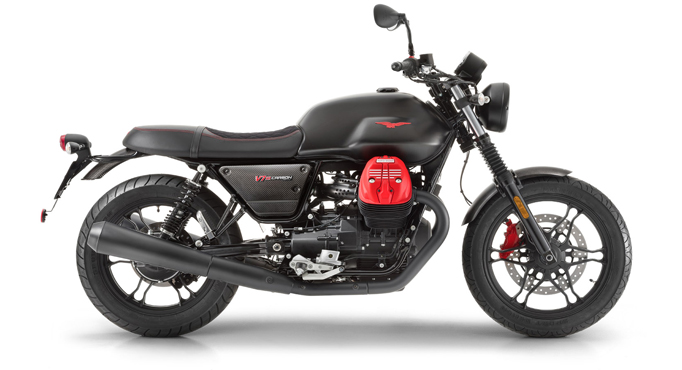 A combination of classic form and modern engineering, the Moto Guzzi V7 III Carbon is built in the authentic style of V7 motorcycles but with modern carbon fibre components. This beast is almost all matte black in colour, except for some parts like the rocker cover, side fairings logos, Brembo front brake calliper, and the fuel-tank Eagle which come in hot red. There's also a red stitching made out of water-repellent Alcantara as finishing to the seat. To complete the classic high-contrast look, this V7 model also sports black anodised components like black headlight frame, rear brake master cylinder, locking fuel cap, and injection covers.
The Carbon is the only one among new V7 special edition models that are manufactured in limited quantity — only 1921 units of Moto Guzzi V7 III Carbon were produced all over the world. Each Carbon bike has a serial number that is printed on the identification plate located at the handlebar risers.
Moto Guzzi V7 III Milano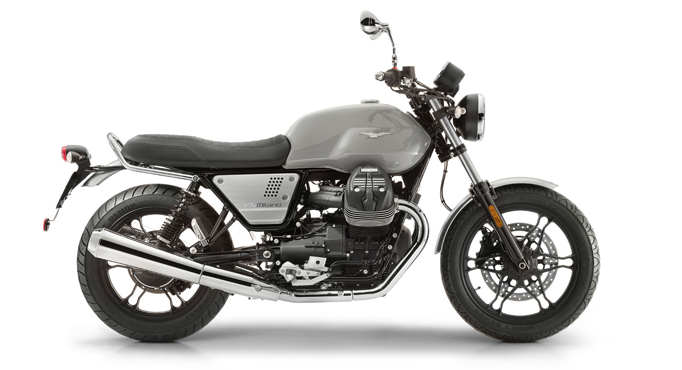 Among the three new special edition models, the V7 III Milano has the urbanest style and is best for city street driving. It's inspired by the V7 III Special that was released last year and includes the same classic features including the chrome exhaust, circular display instrumentation, glossy tank colours and the passenger grab handle.
The V7 III Milano owes its sleek, modern design to the alloy wheels, as well as the aluminium fenders, and side fairings. Apart from being stylish, the Milano is versatile, incredibly agile, and will give you the maximum riding comfort.
Moto Guzzi V7 III Rough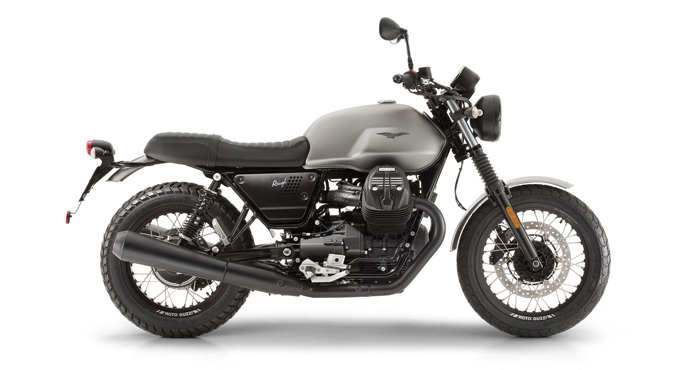 If you want a Moto Guzzi III motorcycle that fares well on both light dirt roads and smooth city streets, then the new V& III Rough is the one for you. Its knobby tires that are mounted on spoked rims give it a country look while the sophisticated style helps it compete with other city two-wheelers.
V7 III Rough has the largest fuel tank among its peers, which means you'll cover longer distances whether you're riding on a tour or just a weekend getaway. It's also equipped with a dynamic steering configuration and reinforced front to produce stability and easy handling that is perfect for first-time bikers.
This model is equipped with the best V7 III components like the passenger grab strap, pair of aluminium side fairings and premium-quality fenders.
Customize and Make V7 III Your Own
All models of the limited Moto Guzzi V7 III have distinct details that make them exclusive and stand-out among other motorcycles on the road. Still, you can customise the bikes to make them even more exclusive with the wide range of Motto Guzzi accessories and special parts.
About Moto Guzzi
Moto Guzzi is a motorcycle manufacturer based in Mandello del Lario, Italy and is the oldest company in Europe that do continuous motorcycle production. It was established in 1921 and has since been known for its significant role in Italy's motorcycle manufacturing and distribution. The company became famous worldwide for producing racing motorbikes and industry innovations like the eight-cylinder engine, wind tunnel, and the first motorcycle centre stand.
Moto Guzzi motorcycles are well-known for the air-cooled 90-degrees V-Twin engines, crankshaft in a longitudinal orientation, and prominent-looking transverse cylinder heads. The Moto Guzzi V7 III is the third-generation series of the iconic motorcycle that was first created way back in 1967.
Moto Guzzi Finance
At Aussie Bike Loans, we have experienced loan brokers who are an expert when dealing with high-end motorcycle brands like Moto Guzzi.
If you have your heart set on a Moto Guzzi, apply now for a pre-approved bike loan or call us on 1300 889 669.