The Aussie Bike Loans team were at the Supercross Championship track being build out at Jimboomba yesterday, getting into the spirit for the six round series to be staged across four states.
The day was a warm up for riders to get some practice on the track and give the media a chance to conduct interviews.
As one of the sponsors for the event, our Aussie marquee played host to the media interviews with the likes of Matt Moss from the Suzuki team and Brenden Harrison from Kawasaki.
While the external parts of the track were being put in place, the main course was at least completed and some action already going on.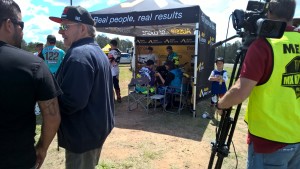 "There was some pretty spectacular stuff going on out there yesterday, even though it was just a practice day and the track wasn't fully finished… a standard Supercross figuration so it's got six berms, a vicious set of whoops and a big tabletop they fly right over. It's pretty impressive," Julian from Aussie Bike Loans said.
The day was a warmup for the big event on October 17 when round 2 will be held here in Queensland.
There will be a team of us from Aussie there, along with over 8,000 spectators, so keep an eye out and come have a chat when you get a chance.