An Australian duo has managed to redevelop the motorbike helmet with an innovative new design that not only fits better but is also much safer for removal following an accident.
All without the need for a chin strap.
John Vozzo and Mark Bryant developed The Vozz Helmet based on skydiving helmets.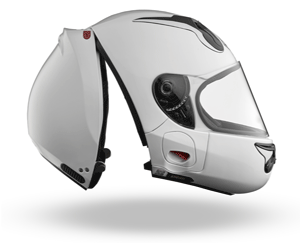 It has a rear access design they've dubbed as the Voltec System.
Because you open the back of the helmet to slide your head in, the neck hole is able to be much smaller, so it fits the jaw closer and doesn't require a chin strap.
Perhaps the best part of this innovative design is that paramedics can safely remove the helmet following an accident without having to physically cut the helmet off.
This reduces the risk of further cranial or spinal damage after an accident.
What do you think of the new design?