If there's one thing you should know about South East Queensland, it's that everyone enjoys a healthy mix of work and play. One of the top things to do in your downtime is to explore the many scenic drives in the area. Touring South East Queensland on a motorcycle may even lead you to an undiscovered gem or two. So, if bike touring gets your motor running then take a look at our top five picks.
Gold Coast Scenic Trips
Tamborine Mountain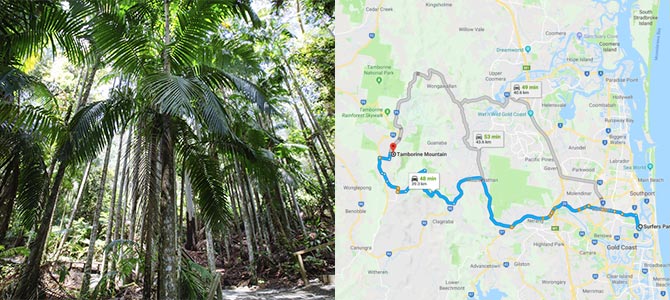 Just under an hours ride from Surfers Paradise, the trip to Tamborine Mountain is a must do. The ride itself isn't too long, allowing plenty of opportunities to stop by some notable places on the way like Witches Chase Cheese Factory. If you're looking for some fresh, locally produced cheese – this is the place. Grab some Camembert for home or even some Clothbound Cheddar for a cheeky snack on your ride.
What goes perfectly with cheese? Wine of course. There are a number of wineries on Tamborine Mountain for you to stretch your legs at. If wine isn't really your thing you could always check out the Tamborine Mountain Distillery. Everyone raves about their huge collection of spirits and it's only fair you see what the buzz is all about.
A trip to Tamborine Mountain wouldn't be complete without a leisurely stroll through the rainforest. Not to mention, it'll burn off some calories from that cheese you had earlier. Tamborine Rainforest Skywalk offers a breath of fresh air – literally.
Lamington National Park Road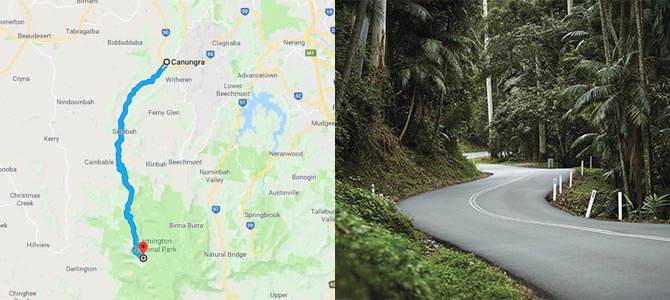 The 20 km ride from Canungra to O'Reilly's Rainforest Retreat in the Lamington National Park will keep you on your toes. There's not only the breathtaking views of the surrounding rainforest but also the thrilling challenge of cruising the numerous tight curves along the way.
Once you arrive at O'Reilly's you can stretch your legs while feeding the local population of Rainbow Lorikeets. You might even enjoy walking one of the many hikes the area has to offer. Then, you can finish it all off with desserts and a cuppa from the O'Reilly's Mountain Cafe.
Brisbane Rides
Mt. Nebo Road (The Gap) to Northbrook Parkway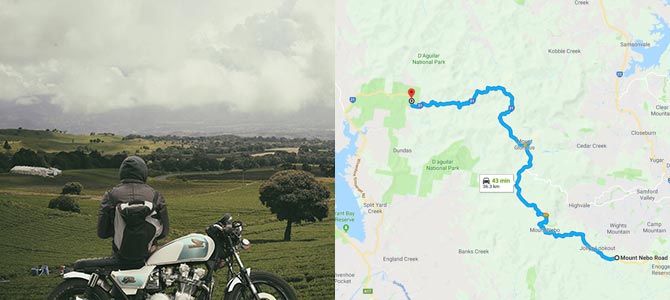 It's understandable why this 36 km stretch of road through Mount Glorious is a favourite for motorcycle enthusiasts. The road surface is smooth and there's a great combination of slow speed technical sections and faster sweeping bends, provide a thrilling test of rider skills.
As this is a popular place to ride, it can get quite busy. If you want to see it for yourself, heading out early in the afternoon when there are fewer riders would be best.
Sunshine Coast Bike Trips
Nambour – Mapleton – Landsborough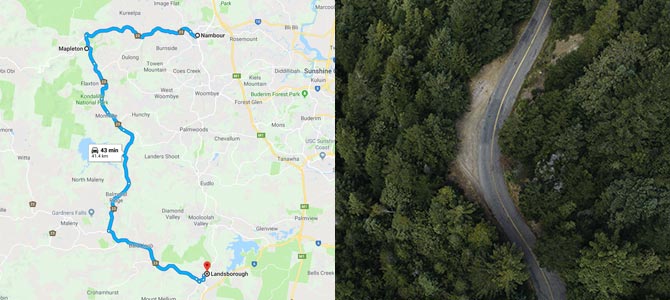 Usually known for music festivals and expos, Nambour is also the perfect place to start your ride. The next stop along the route is Mapleton, only 20 km from Nambour. This is where you'll find Montville – a small town revered for its artistic flair and dainty coffee shops, perfect for a short break to stretch those legs.
Once the caffeine has officially kicked in, jump back on your bike and head towards Landsborough – a beautiful scenic 30 km ride.
Caloundra to Mooloolaba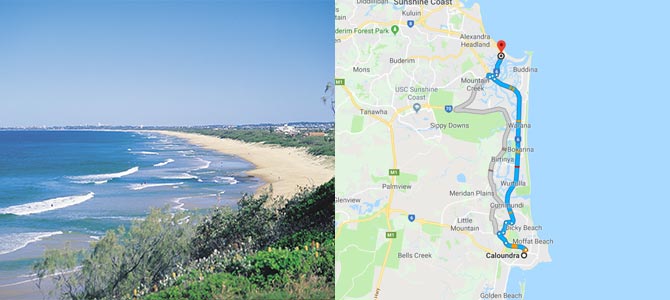 If a leisurely coastal ride is more your speed then why not check out the 20 km stretch between Caloundra and Mooloolaba. The heat of the sun making you a little hot under the collar? You can always stop for a dip at one of the many beaches along the way.
By the time you arrive in Mooloolaba, you might be a bit peckish. This won't be a problem, you'll be spoilt for choice. From quaint trendy cafes to fresh local seafood, there'll be something there for everyone.
Prepare For The Ride
Before you take a trip it's always best to give your bike a quick check-up. The last thing you want it to be stuck on the side of the road watching others have all the fun. Be ahead of the game, be confident that your bike won't act up while you're in the middle of your adventure at one of these places.
Check the brakes are working sufficiently;
Ensure your tyres are in good order and they have the correct air pressure;
Make sure the oil and lubricants are filled appropriately;
Fill your fuel tank to the brim – might sound silly but you may not see another fuel station before you need to fill up again.
Looking for Motorcycle Finance?
Found a pair of boots that seem fit for you but have not fully decided about buying a motorbike? Check our Bike Loan Calculator to find your approximate loan repayments.
Find out more about how motorcycle loans work.
Aussie Bike Loans offer the best bike loans with a low-interest rate, call us directly on 1300 889 669 or apply online and we will help you purchase your dream motorcycle.
*Images courtesy of Tourism QLD, Destination Gold Coast, Getty Images and Unsplash